Grants
Teacher Grants
K-12 teachers from across DuPage County can apply for grants of up to $250 to fund projects promoting agriculture in his or her classroom. See application for more details. Application due March 9, 2018 3:00pm.
2018 Teacher Grant Application
Library Grants
Libraries from across DuPage County can apply for grants of up to $50 to to purchase select agriculture-related books to promote agricultural literacy. See application for more details. Application due March 9, 2018 3:00pm.
2018 Library Grant Application
2018 DuPage County Farm Bureau Books
4-H Grants
4-Hers registered in a DuPage County 4-H club may register to win a grant of up to $150 to obtain materials to complete a successful project. See application for more details. Application due April 2, 2018.
————————————————————————————————————————————–
On April 3, 2017 teachers across DuPage County were presented with grants funded by the DuPage County Farm Bureau Foundation. Hear about their projects here!
Brittany Sanfillippo, Highland Elementary – Kindergarten
Brittany taught her kindergartners all about seeds, different types of food, and farmer's chores. She purchased seed and grocery store "theme boxes" to show students most crops begin as a seed and different seeds grow into different things. For some students, it was their first time seeing foods such as eggplants and limes. She also read them fun stories and nonfiction books purchased with grant money to teach students about farm life.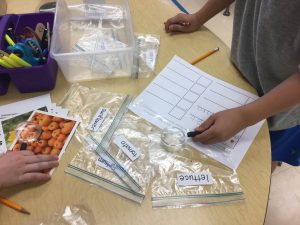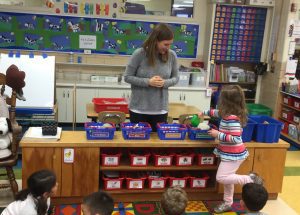 Ron Bowers, Kingsley Elementary – 2nd Grade
Ron was inspired at the countywide institute day he attended to connect the science of butter making to Laura Ingalls literature he covered in his curriculum. With the grant, he purchased old fashioned butter churns to show the butter making process. The students even had the opportunity to bring the churn home to show their families. What a great way to implement agriculture education with science and literature!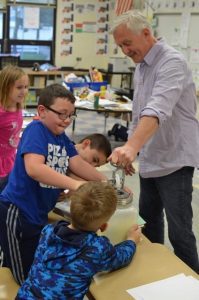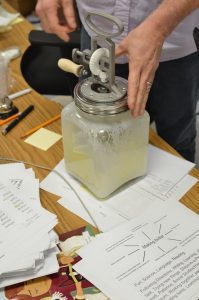 Melissa Swallows, Fairmount Elementary – 3rd Grade
Melissa's 3rd graders not only learned about agriculture throughout the state, but they also gained an interest in the field. Students learned how to take notes in special journals purchased with the grant. Students studied agriculture related texts also purchased with the grant. They compared and contrasted soybean plant structures to plant structures in their textbooks. They also learned more about farmer roles and how milk becomes cheese!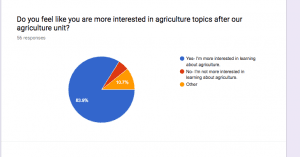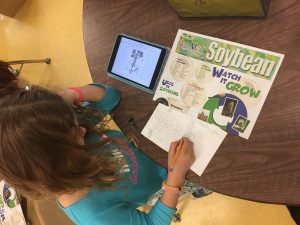 Jessica Paulsen, Holy Trinity School – Library Grant
Jessica Paulsen bought many agriculture books to share with her school. In addition to reading the books, students brainstormed ways produce is produced. Students used to book, "How Did That Get in my Lunchbox?" to talk about how their lunches came to be in their lunch boxes. 5th graders and 2nd graders teamed up for buddy reading and to tour the school's greenhouse. 8th graders talked to the students about their composting efforts as well!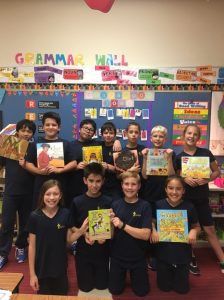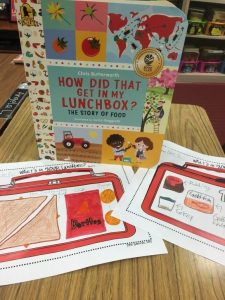 Grace Smith of High Hopes 4-H received a grant for her poultry project.