Grants
The DuPage County Farm Bureau Foundation provides grants worth up to $250 to teachers who design an agriculture curriculum to implement in their classrooms and up to $50 to libraries to purchase agriculture books. Teacher grants may not be used for pollinator gardens or campus beautification. Projects should be focused around food production. Please see applications for more information.
Note: Teacher & Library Grants are due November 6th, 2023.
2024 Teacher Grant Application
2024 Library Grant Application
Ag in the Classroom Teacher Grants

"House Plant Project"
Taroh Strong- Benjamin Franklin Elementary, Glen Ellyn- 3rd-5th
Taroh used her grant money to purchase potting soil, containers, watering cans, and plants of all varieties for her 3rd-5th grade students. Her students learned about gardening, transplanting, and plant care while keeping a gardening journal. Taroh's students are from immigrant and refugee families and being able to work in the soil with plants gave them a safe healing space. Students were then able to take their plants home at the end of the year.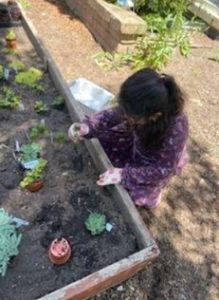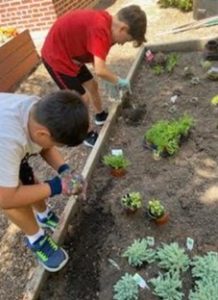 "Nature Nerds"
Robert Wojtas- Fullerton Elementary, Addison- 4th Grade
Robert utilized his grant money to make a pollinator garden at the school's outdoor reading area with his 4th graders.  The students learned about annual and perennial plants and how to "split" plants. The gardening club began working on the garden area in October and finished planting in May. They created a great space for bees, butterflies, and students.
   
"Indoor Gardens"
Alisha Waters- Jefferson Jr. High, Naperville – 7th Grade
Alisha used her funds purchase a hydro garden for her classroom. Students grew plants and studied the reactants plants need to undergo photosynthesis. They created three trials with different variables related to plant needs. Another part of the grant was used to give each student a seed and bag to create a viable growing environment. Students were able to take their plants home after they sprouted. Succulents were also purchased for the Green Club to provide plants to multiple classrooms.
   
"School Service Garden"
Anna Pagdin- Sacred Heart School, Lombard- 5th Grade
Anna utilized her grant to purchase gardening supplies for her 5th grade class. Each student was assigned a vegetable that grows well in Illinois. They researched the plant, growing information, and how to prepare it in a meal. Students were given packets of seeds and planted them in starter kits. They were later transplanted into larger pots. This provided a hands-on experience and allowed the students to learn about plant lifecycles.
        
"Preschool Farm"
Jeanne Kaefer- Sacred Heart School, Lombard- Pre-K
Jeanne Kaefer from Sacred Heart School in Lombard used her funds to create a farm in her classroom by purchasing a gardening wagon and tool set, pots, farm animals, soil, a flat of flowers and veggies, and farm books. Students learned about farms, planted seeds, and played with a sensory barn to learn about farm animals. They even had chicks in the classroom. Jeanne also utilized AITC materials from our summer Pre-K & Kindergarten Teacher Workshop throughout the unit.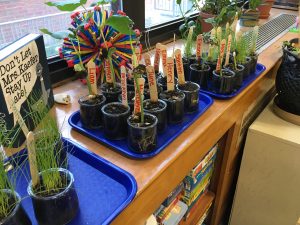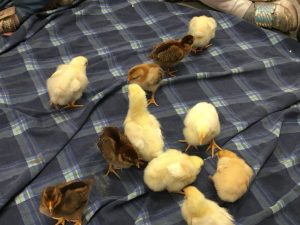 "From Seed to Table"
Nicole Williams- Salt Creek Primary School, Elmhurst- Kindergarten & 1st Grade
Nicole used her grant to teach her students about plant needs, parts, and life cycles. Nicole purchased a steel planter bed and garden soil for the kindergarten and 1st grade classes. Students watched their plants grow from seeds to seedlings indoors. Then the teachers held a "garden day" and each class spent 30 minutes outside transplanting their seedlings. When school begins next fall, the students will be able to see their vegetables that continued to grow over the summer.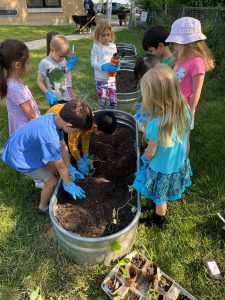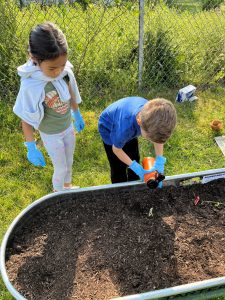 "Earth Club"
Krista Lipnisky- Washington Elementary, Wheaton- 4th Grade
Krista used her funds to create a mini garden in the spring for her 4th grade Earth Club students. She purchased a mini garden, tools, plant stand, and seeds. Students grew vegetables in the classroom and learned about plant care, watering, growth, transplanting, and they were able to take some of their vegetable plants home at the end of the year. Students also composted using a worm bin, planted tulip bulbs, and learned about butterflies and caterpillars.
         
Library Grants
In December 2022, twenty libraries across DuPage County received grants to purchase agriculture accurate books. Recipients were able to choose from books on a provided list and order them directly to the library. Thank you to everyone who participated! We're excited to be sharing the love of agriculture all across our county!
4-H Grants
Congratulations to Garrett Schnall of the Darien Dragons on an amazing project. Garrett received $150 for his Service-Learning project and learned how to grow vegetables and herbs in small containers. He used his funds to purchase seeds and potting supplies for 90 plants. Garrett not only wanted to share his produce with kids in need, but also teach them how to grow their own food. He presented his plants to classmates and his mom's classroom around Earth Day and showed the students how to care for the plants at home. Great job Garrett!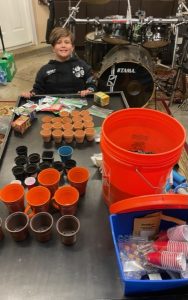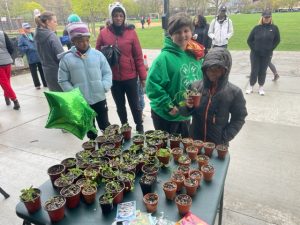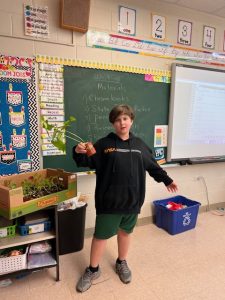 Congratulations to Morgan Uhlir of the Whirlybirds on her successful 4-H project. Morgan received $150 for her poultry project and used the funds to purchase a chicken coop for her hens. Morgan learned how to assemble the coop with her dad. Before the project her chickens could only go outside when the family was home to supervise. The coop allowed the chickens to be outside every day, and she has seen improvement in their health. Congrats to Morgan on a job well done!