Grants
The DuPage County Farm Bureau Foundation provides grants to teachers who design agriculture curriculum to implement in their classrooms, libraries to purchase accurate agriculture books, and 4-H youth to fund agriculture related projects to show at the DuPage County Fair. Please see applications for more information.
Note: Teacher & Library Grants are due November 8th, 2021 and 4-H Grants are due March 1st, 2022.
2022 AITC Teacher Grant Application
2022 AITC Library Grant Application
In December 2021, teachers across DuPage County were presented with grants funded by the DuPage County Farm Bureau Foundation. Read about all their amazing agriculture-inspired projects here!
Ag in the Classroom Teacher Grants
"Down on the Farm"
Breanna Struss- Glen Crest Elementary, Glen Ellyn- 4th-6th Special Ed
Over the course of a month, Breanna's students learned about farming and different types of farm animals. Students engaged in hands-on activities, watched animal videos, and created a classroom barn. For their science class, the students studied seven farm animals and learned about the products that each animal gives us, where they live, and their characteristics. During their study of each animal, the class did a craft and made a snack, such as scrambling eggs and making homemade butter.  Breanna used her grant funds to purchase craft materials and snack ingredients. At the end of the farm unit, the students were tested on their animal knowledge and created a farm quilt for their barn.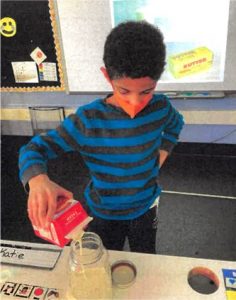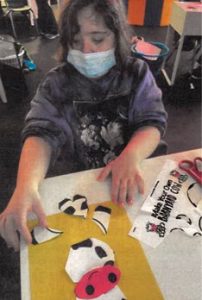 "Vermicomposting with Worm Bins"
Lisa Burnell- Horizon Elementary, Hanover Park- 4th Grade
Using the funds from the AITC grant and other donations, Lisa's class purchased two worm composters and 250 worms. Due to the pandemic, students were unable to be involved with the set-up process of the worm bins. Throughout this unit, students learned about and discussed compostable and non-compostable materials and the importance of recycling. This program was an enhancement to the school's already existing recycling program. Students were able to help harvest some of the worm castings which were used in the school's vertical gardening area. Next fall, the school plans to start a garden club to help manage the compostable materials from the lunchroom and expand the worm farm from this project.

Library Grants
In December 2020, seven libraries across DuPage County received grants to purchase agriculture accurate books. Recipients were able to choose from books on a provided list and order them directly to the library. Thank you to everyone who participated! We're excited to be sharing the love of agriculture all across our county!
4-H Grants
No applications were received for the 2021 4-H grants this year.