Grants
The DuPage County Farm Bureau Foundation provides grants to teachers who design agriculture curriculum to implement in their classrooms, libraries to purchase accurate agriculture books, and 4-H youth to fund projects to show at the DuPage County Fair. Please see applications for more information.
2019 Teacher Grant Application (Link) Closed
2019 Library Grant Application (Link)Closed
2019 DuPage County Farm Bureau Accurate Ag Books List (Link) Closed
2019 4-H Grant Application (Link)Due April 1, 2019
Last spring, teachers, libraries, and 4-Hers across DuPage County were presented with grants funded by the DuPage County Farm Bureau Foundation. Read about all their amazing agriculture-inspired projects here!
Ag in the Classroom Teacher Grants
"No-Till Farming"
Addison Trail High School– Andrea Grossart – Introduction to Horticulture
Inspired by an activity at DuPage County Farm Bureau's teacher workshop by University of Illinois Extension, Andrea Grossart purchased hexbugs for her introduction to horticulture class. These hexbugs were used as motors for no-till planters the students were responsible for designing. The planters could be made from tape, pushpins, beads, straws, wooden dowels, and paper clips which should mimic digging a hole for a seed, planting a seed, and covering up the hole. The activity introduced the students to soil conservation, current agriculture topics, and technology, while improving engineering skills, and creating a teamwork environment.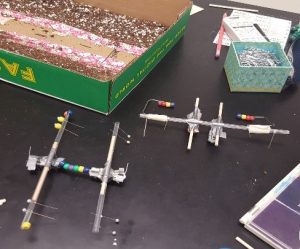 "From Plant Fibers to Functional Fabric"
Arbor View Elementary – Debra Carroso – Grades 3-5th
Students in this group researched how cotton, wool, and indigo are grown and used each day. With materials purchased from the grant, students were able to look at bolls of cotton and bolts of cotton fabric to see where fabric used every day comes from. Students then dyed white cotton fabric with natural indigo and created pillows, stuffing them with cotton batting. The teacher also purchased a tabletop loom to further demonstrate how cotton fabric is made. The students also had the opportunity to felt wool and create felted soaps. During the felting process, students were able to see what happens when wool is agitated in hot water. Students will be able to teach what they learned to other students next year in "Makers Labs."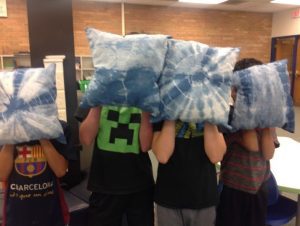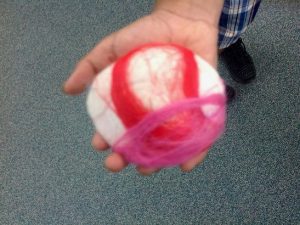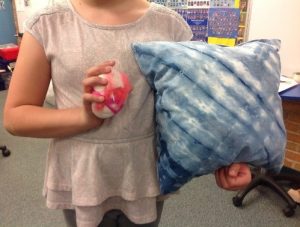 "Growing Teaching Tank"
Army Trail Elementary – Araceli Perez –  4th Grade
Funding from this grant purchased books and Root Vue Farms to help students understand how plants grow. The books, titled Roots, Stems, and Trunks; Leaves, Flowers, Seeds, and Fruits; and Plants that Eat Animals, were read to the class aloud so students could analyze how plants develop. Then students utilized a Root Vue Farm to see how roots develop. The students were surprised to see that not all roots are brown – some can be white. Students also created discussion about why roots grow in many directions instead of just straight down.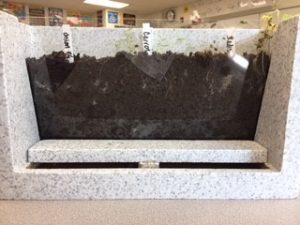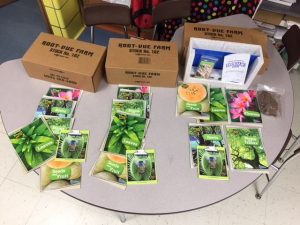 "Eco-Column Lab"
Downers Grove South – Kathleen Troyer – AP Environmental Science, Seniors
Students at Downers Grove South created columns of tubing made from 2-liter pop bottles. Each column had three chambers: a terrestrial chamber, a decomposer chamber, and an aquatic chamber. The chambers use nutrients from other chambers to show how ecosystems interact with each other. The grant money purchased four-way soil analyzers, which collect data on soil pH, moisture, N-P-K, and light. Each group ran the system for 6 weeks to see how well plants grew, fish thrived, how hard worms worked to decompose plant matter, among other things while collecting soil data.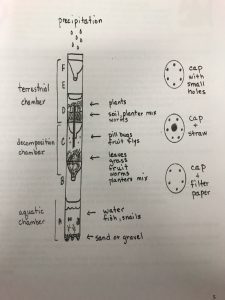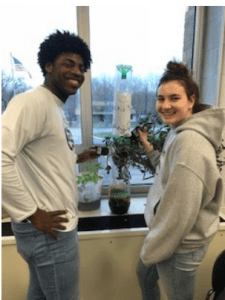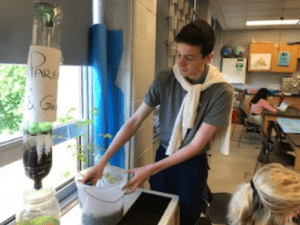 "From Seed to Kitchen"
Glen Crest Middle School – Kathy Otey –  6,7,8 Special Ed
Kathy's students selected and planted four herbs from a larger selection: sage, rosemary, cilantro, and parsley. They observed the different germination and grow rates as they cared for the growing plants. The students then researched recipes for each herb and made them in-class. The students then developed a recipe book to take home to their families along with their herbs.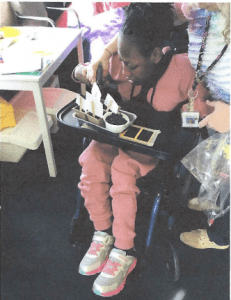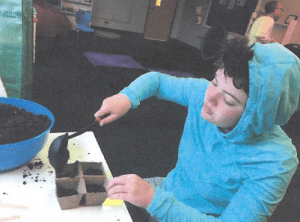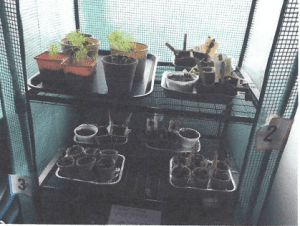 "Growing Pride"
Lisle Junior High School – Sharon Byrne
As a school, the students at Lisle Junior High designed a whole-school garden initiative that will incorporate teamwork to sustain a healthy community. With the grant, teachers were able to buy lumber to build raised beds and gardening material to contribute to their goals of providing access to fresh produce, promote lifelong healthy eating, and create awareness of agriculture. The students faced many challenges while building these beds: the soil was delivered at the wrong side of the building, so the students need to wheelbarrow soil to the proper location; plants were harmed during late frosts; and weeds from the 20-year-old courtyard needed to be removed. All these challenges, or opportunities, allowed students to reflect what this project might be like on a larger scale. This summer, volunteer students will come weed, water, stake, and harvest their garden. The whole experience is eye-opening to how food gets to the table!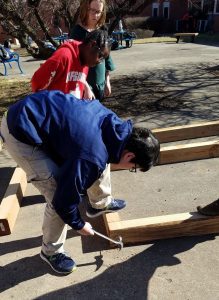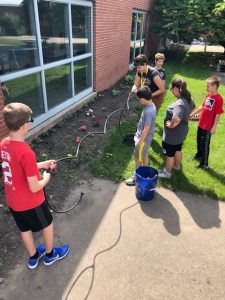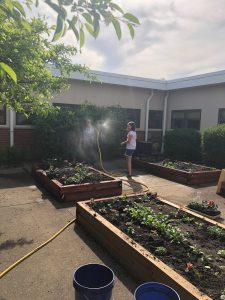 "Class Library to Support an Understanding of Plants"
Pierce Downer Elementary –  Sabrina Breault – 1st grade
This 1st grade class's library was expanded as many books, including Lettuce Grows on the Ground, Eyewitness Plant, and National Geographic readers were added to their library. They also bought a Venus flytrap. The students read books and developed questions they may have. Then, they researched questions they had on their iPads. On another day, students took one fun fact they learned, drew a picture, and shared with a larger group. Since the books were non-fiction, they were also able to search each book for things like table of contents, glossary, and captions. The flytrap sparked their interest as well!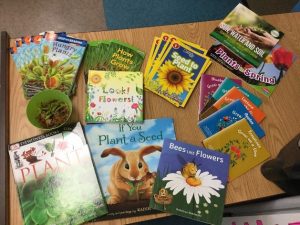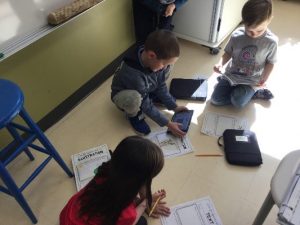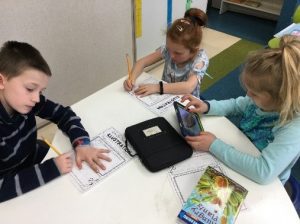 "Roselle Middle School Garden Water Collection"
Roselle Middle School – Raland Engle – 8th Grade LEGO Team
Students at Roselle Middle School realized that their planned school garden would be far from a building with an outdoor tap. After they became of aware of the issue, the 8th grade LEGO team presented a solution to their school board: create a Rainwater Collection Tower, that was elevated so water pressure could flow through a hose and start a sprinkler. The school board thought the idea was great. Using grant funding with help from the school district's board of engineers, the students designed and tested two types of rainwater collectors to use for the garden. It will help the garden stay watered all summer.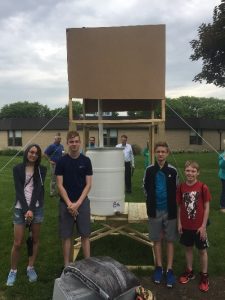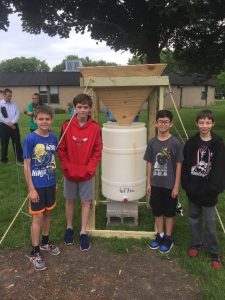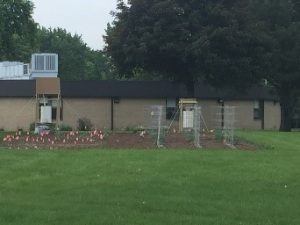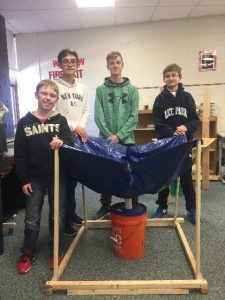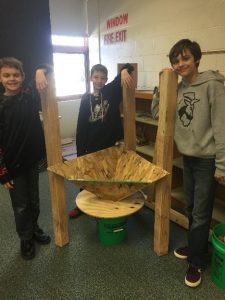 Grant report not yet included: Ardmore Elementary, Paula Marino
Library Grants
Bloomingdale Public Library – Heidi Knuth
The youth section of Bloomingdale Public Library can now add: Seed, Soil, Sun; The Fruits We Eat; How Did That Get in my Lunchbox? The Story of Food; PB&J Hooray; and Heartland to its list of titles. The library plans to place these books in circulation, as well as read them for their summer reading program, which relates to their youth garden club. The library placed book plates in each book stating they were purchased with a grant from DuPage County Farm Bureau and placed a sign on the display case where they are sitting to be checked out!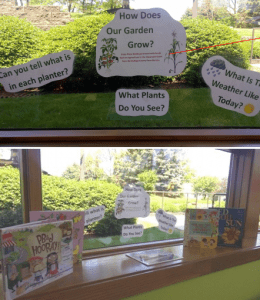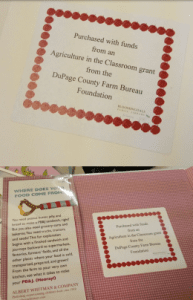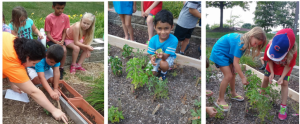 Westmont Public Library – Elizabeth Miller
With help from grant funding, Westmont Public Library was able to purchase 5 books to add to their farming and agriculture section. Each book is marked with a nameplate. Because of this grant, librarians recognized that agriculture is an excellent way to reach STEM goals in their programming. So far, they have added chick hatching to their library, and they plan to implement more ag activities in the fall!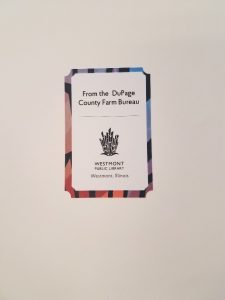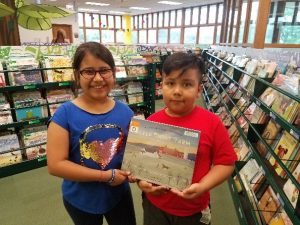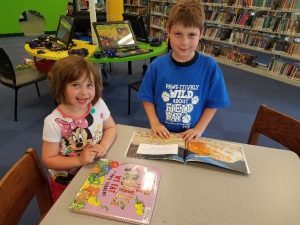 4-H Grants
| | | |
| --- | --- | --- |
| Project | 4-Her | 4-H Club |
| Electricity 3 | Alexander Ford | Trinity Trail Blazers |
| Scrapbooking 301 | Madeline Schulz | Roselle Go-Gettems |
| Food Preservation | Presley Schulz | Roselle Go-Gettems |
| Foul Play – Poultry Science | Grace Smith | High Hopes 4-H |