Grants
The DuPage County Farm Bureau Foundation provides grants to teachers who design agriculture curriculum to implement in their classrooms, libraries to purchase accurate agriculture books, and 4-H youth to fund projects to show at the DuPage County Fair. Please see applications for more information.
2021 AITC library grant application (Link)
2021 AITC Grant Application (Link)
2020 DuPage County Farm Bureau Accurate Ag Books (Link)
In spring 2020, teachers, libraries, and 4-Hers across DuPage County were presented with grants funded by the DuPage County Farm Bureau Foundation. Read about all their amazing agriculture-inspired projects here! Note: Many recipients were unable to finish their programs before the COVID-19 shutdown. Their grant deadlines have been extended through the Fall of 2020.  
Ag in the Classroom Teacher Grants
"Class Nonfiction Library to Support an Understanding of Plants"
Sabrina Breault & Catherine Boyce- Pierce Downer Elementary, Downers Grove- 1st Grade
Sabrina and Catherine purchased five new agriculture accurate books, National Geographic Readers, and TIME for Kids Materials for their 1st grade classes. All the materials were related to plants. Students did a variety of activities with the books including investigating questions that they had about the story, writing about an interesting fact that they learned, and drawing a picture about the fact. As part of their science curriculum, the class read "We are the Gardeners" and sprouted beans in their classroom. Students also recorded themselves reading the books, and their parents were able to see what they were learning!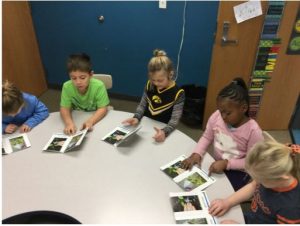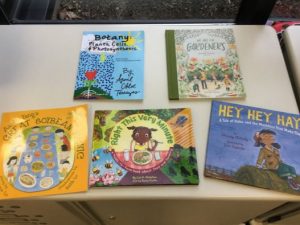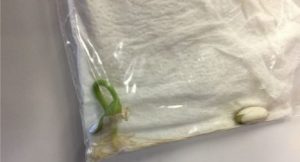 "Trees for the Bees"
Julie Ramirez- Glen Crest Middle School, Glen Ellyn- 5th-8th Grade Special Ed
Julie's students used the grant to purchase soil, pots, and pans for their Trees for the Bees project. Students planted seeds of apple, date, peach, and avocado trees. As the seeds sprouted, they charted their growth and leaves. Over the course of the project, students learned about bees and pollination, the importance of worms in soil, and basic plant parts. Students also created a recipe book featuring the four fruits that they were growing.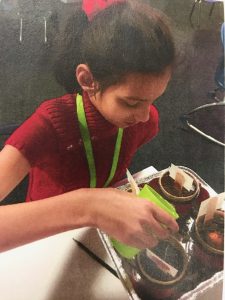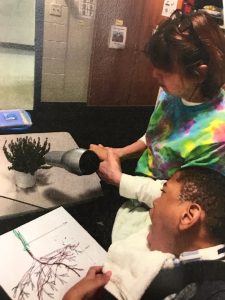 Library Grants
The 2020 library grant project deadline has been extended due to public event restrictions.
Wood Dale Public Library 
With the 2020 DCFB Library Grant, Wood Dale Public Library purchased four new books: Auntie Yang's Great Soybean Picnic, Hey, Hey, Hay!, Full of Beans, Henry Ford Grows a Car, and My, Oh My- A Butterfly. Because the library was unable to create in-house displays this year, they curated a collection of agricultural books that could be read from home and published their staff picks to their social media page. The library also encouraged students to join their summer STEM experiment which involved watching caterpillars grow into butterflies and a reading of My, Oh My! -A Butterfly. With the help of the library grant, the youth services librarians are working to include agricultural books and activities in a wide array of library programming. New programs include DIY Story Time Kits, Grab-and-Go crafts, and YouTube story time programming.

4-H Grants
Simon Smith was awarded a 4-H grant for his Poultry Science project. Simon used the grant funds to purchase the materials needed to build his own incubator that was accurate, automatic, and inexpensive. Simon researched this idea and converted a cooler into an incubator using an XL Incu-kit, plexiglass, duct tape, thermometer, wood, hardware cloth, water containers, egg cartons, and PVC pipe. During his test hatchings, Simon saw a hatch rate of 89-100%! Simon presented his project at the 2020 Virtual DuPage County Fair and received a blue ribbon, class champion, and reserve grand champion for animal science. He is a member of the High Hopes 4-H Club.