Grow Your Own Food Project
The DuPage County Farm Bureau and College of DuPage are excited to bring a new educational opportunity to grade school students within DuPage County. All 4th grade teachers are invited to participate in our 2024 "Grow Your Own Food" program. Students will learn about food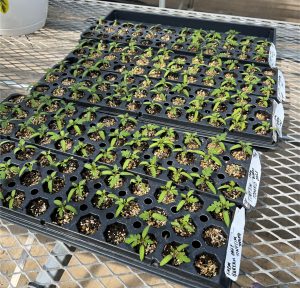 production, gardening, and transplanting. Each student will be given a cherry tomato plant to transplant and care for just in time for Mother's Day! The best part? This program is FREE to teachers, a value of $50 per classroom!
In early April 2024, teachers will be sent a training video reviewing the transplanting activity and plant care instructions. All teachers will need to view the training before the program begins. In early May 2024, teachers will receive all transplanting supplies, soil, pots, tomato plants, table clothes, etc. A short educational video and PowerPoint lesson will be provided that teaches students about gardening and goes through the steps of transplanting the students' tomatoes. Teachers will lead the transplanting activity, by demonstrating with their own tomato plant.
DuPage County Farm Bureau will post additional videos and tomato tips on our YouTube channel, social media platforms, and website where families can access them throughout the early summer. Students will also receive a plant growth chart, plant care instructions, and a simple recipe to try with their tomatoes once the fruit is ready for harvest. Throughout the summer, we will host additional student contests and prizes.
We hope you will join us in this new and exciting program!  We will only be accepting the first 4,000 students registered. Registration is due by August 1st, 2023. Please contact us at dupageaitc@dcfb.org if you have questions.
Please note, this program is not available to individuals and homeschool groups.
What will the "Grow Your Own Food" program look like? Check out the photos from our 2023 Pilot Program hosted at Washington Elementary in Wheaton! We'd like to give a HUGE Thank You to Mrs. Lipnisky and her co-teachers for running our test program!