Lazy Squirrel Acres, LLC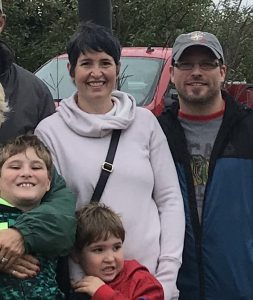 Like many other families during the pandemic's stay home order, James and Christie Gillen, stayed safe and healthy by ordering and having groceries delivered. Frequently they found that the produce they were receiving was of poor quality or not available at all. James started looking into other options for fresh produce either from local farms or growing it themselves and stumbled across microgreens. "This type of farming had a great appeal to us since the labor was minimal, the crop turnaround time was fast, there were a variety of new flavors and extreme levels of nutrition" says Christie.  An over-abundance of microgreens shared with family and friends who raved about the quality lead to the creation of Lazy Squirrel Aces, LLC.
As a completely home-based operation, the husband and wife team run the business out of their home in Naperville. Each family member serves an important role in their success. James does most of the planting and harvesting, while Christie takes the microgreens to farmers markets where she meets potential customers including local chef's and restaurant owners. Their 2 children also take part in the business as taste testers and food critics. Christie says, "They usually argue about eating all their vegetables, but have no objections to adding microgreens to their meals."
As with any farm operation, growing microgreens comes with many challenges. Getting consumers to realize that microgreens are not "just a garnish or a starter plant" says Christie, is one of the first obstacles. She explains, "The nutrition from these micros can be up to 10 times higher in nutrition density than the full grown version. We've had to educate many new and potential customers about "the why" and that they should consid
er trying microgreens." The positives to growing these microgreens seem to outweigh any challenges they face. Since they are grown vertically in an environmentally controlled room there is no need for soil or the use of fertilizers or pesticides. Seeds are carefully selected and equipment is properly cleaned and sanitized. "We follow strict sanitation protocols and use the highest quality filtered water, seeds and substrate," explains Christine.
The future of this small business is promising. They started Lazy Squirrel Acres out of a personal need to provide their family with healthy food in uncertain times. It was happy surprise to provide local residents with fresh and healthy options with microgreens. "They are easy to add to the diet you are already eating. We put them on pizza, tacos, macaroni and cheese to name a few. It adds flavor and beauty to your meals while also adding vitamins and nutrients." Says Christie. And since these microgreens are grown indoors, they are able to supply them year-round!
You can find Lazy Squirrel Acres, LLC at local French Markets in Glen Ellyn and Lisle or order online at www.lazysqacres.com You can also follow them on Facebook, Twitter, Instagram and Pinterest. Christine says, "We want people to think global and grow local."