Soil Testing
* Due to COVID-19 and office closure, you can leave your soil sample, questionnaire, and payment in the green bin provided, marked "Soil Test Samples" at the front door of the DuPage County Farm Bureau office. Make sure your sample,  form, and payment are packaged together and clearly labeled. Call our office at 630-668-8161 with any questions.
Soil Testing Options:
Basic Test: includes soil PH, Phosphorus (P1), & Potassium (K), OM, with recommendations
Lawn/Garden: includes Basic Test, plus CEC, Ca, MG, and Base Saturation and recommendations
Lawn/Garden Plus: includes Basic and Lawn/Garden tests, plus micro-nutrients iron, zinc, manganese, copper, sulfur, and boron with recommendations
Testing Prices:
For members:                                       For non-members:
Basic Test: $30                                           Basic Test: $40
Lawn/Garden: $35                                    Lawn/Garden: $45
Lawn/Garden Plus: $55                           Lawn/Garden Plus: $65
Testing Steps:
For one soil test, collect 3-4 soil samples from several locations in your yard/garden by cutting a one inch hole about 7 inches deep using a trowel or small shovel. Insert the trowel straight down in to the soil 7 inches and remove the soil deposited on the face of the tool and set soil aside. Next insert the tool into the soil so there will be about a 1 inch layer of soil on the tool face 7 inches deep and then take a knife and cut a vertical column of soils that is 1 inch by 1 inch by 7 inches deep.  You should have at least one cup of soil. Do not include any dead or live plant matter in the sample.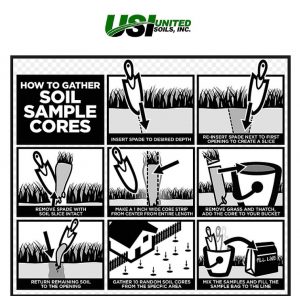 Place soil in a sealed plastic bag and bring it to the DCFB office during regular office hours, Monday-Friday 8:30am-5:00pm.
At the office, you will be asked to fill out a short questionnaire to be sent with the sample and submit payment (cash or check) for the testing. Your test results will be mailed directly to your home in 7-14 days.
Download the questionnaire here:  Soil Test Questionnaire
After receiving your results, additional recommendations and guidelines will be given to you by United Soils Inc.