Soil Testing
IMPROVE YOUR LAWN AND GARDEN
Soil in its natural state is rarely fertile enough for the best growth of plants.  Usually, it is necessary to replenish the earth's store of plant nutrients to obtain the most vigorous lawn, the most abundant and brilliant flowers, the prettiest trees and shrubs, and the greatest yield of fresh veggies.
SOIL TESTING OPTIONS
1. Lawn/Garden S2: includes Basic Test, plus organic matter and recommendations on amount & timing of fertilizer.
2. Lawn/Garden Plus S8: includes Basic and Lawn/Garden tests, plus micro-nutrients iron, zinc, manganese, copper, sulfur, and boron.
TESTING PRICES
For members:                                       For non-members:
Lawn/Garden: $52                                  Lawn/Garden: $75
Lawn/Garden Plus: $62                          Lawn/Garden Plus: $85
TESTING TIPS
For one soil test, collect five soil samples from several locations in your yard/garden by cutting a one inch hole about six inches deep (three inches deep for existing lawn), you should have at least one cup of soil.  Do not include any dead or live plant material in the sample.  Problem areas should not be included in the composite sample.  Do not include live/dead grass in the sample.  Place sample in a quart size sealable plastic bag.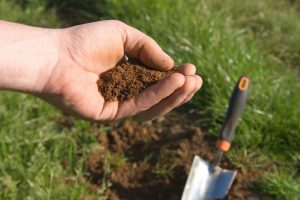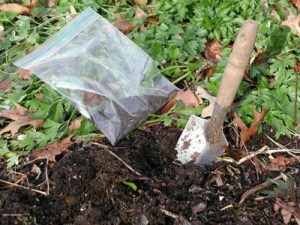 Bring your soil sample to the DCFB office during regular office hours, Monday-Friday 8:00am-4:00pm.
Your test results will be emailed directly to you in 7-14 days.
Download the soil testing Form