Soil Testing
Soil Testing Options:
Lawn/Garden: includes Basic Test, plus CEC, Ca, MG, and Base Saturation and recommendations
Lawn/Garden Plus: includes Basic and Lawn/Garden tests, plus micro-nutrients iron, zinc, manganese, copper, sulfur, and boron with recommendations
Testing Prices:
For members:                                       For non-members:
Lawn/Garden: $47                                  Lawn/Garden: $57
Lawn/Garden Plus: $67                          Lawn/Garden Plus: $77
Testing Steps:
For one soil test, collect 3-4 soil samples from several locations in your yard/garden by cutting a one inch hole about 7 inches deep using a trowel or small shovel. Insert the trowel straight down in to the soil 7 inches and remove the soil deposited on the face of the tool and set soil aside. Next insert the tool into the soil so there will be about a 1 inch layer of soil on the tool face 7 inches deep and then take a knife and cut a vertical column of soils that is 1 inch by 1 inch by 7 inches deep.  You should have at least one cup of soil. Do not include any dead or live plant matter in the sample.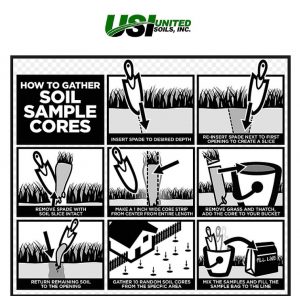 Place soil in a sealed plastic bag and bring it to the DCFB office during regular office hours, Monday-Friday 8:00am-4:00pm.
At the office, you will be asked to fill out a short questionnaire to be sent with the sample and submit payment (cash or check) for the testing. Your test results will be mailed directly to your home in 7-14 days.
Download the questionnaire here: Soil Testing Questionnaire
After receiving your results, additional recommendations and guidelines will be given to you by United Soils Inc.