Mayneland Farm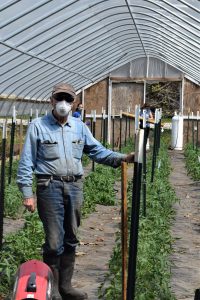 Mayneland Farm has been growing and selling fruits and vegetables from the farm stand on their property since 1976. It all started when the owner, Jeremy Mayne, and his mother took in a tenant who wanted to start a large family garden on the property. When he found himself with an over abundance of produce, the tenant opened a farm stand, where the original structure still stands today. When that tenant moved away in 1980, Jeremy took over.
Now in his 41st year of operating Mayneland Farm, Jeremy runs the business with the help of part-time seasonal staff. Mayneland Farm has specialized in growing in high tunnels which are similar to greenhouses but use solar energy instead of electrical to heat them. The plants are grown in the ground which is covered by black plastic sheeting with holes for the stems of the plants. The black plastic provides excellent weed control and warms the soil for faster growth. They have 15 high tunnels and also grow in open fields. These high tunnels allow them to grow from February through November.
While growing produce in our ever-changing climate can be challenging, Jeremy continues to find ways to stay ahead. He has attended seminars for specialty crop growers on anaerobic treatments of soil and is experimenting with planting beet seeds in his high tunnels and then transplanting to the field. He uses drip irrigation in the fields and leaf compost from the city. "The village delivers 75-100 truckloads of leaf compost we use as mulch over the beds."
At the farm stand you'll find a variety of seasonal fruits and vegetables as well as flowers and honey from their 11 hives. The thrill of that 1st spring crop is what he loves about the business. And Jeremy says "the compliments they give don't hurt either. A customer once said to me 'You have changed the quality of my life.' That was the best compliment I could receive. We ensure that our customers get the freshest produce. Our produce is picked and sometimes sold the same day. We don't have to worry about the middleman and that's the advantage we have over grocery stores. Freshness."
If you'd like to learn more about Mayneland Farm, visit them at maynelandfarm.com or stop by their Farm Stand at 27W268 Bauer Rd, Naperville, IL near the corner of Mill Street and Bauer Road. They're open and ready for business. You'll find asparagus, lettuce, rhubarb, radishes, strawberries, flowers and honey in late spring. In the summer months you can purchase tomatoes, specialty potatoes, onions, leeks, garlic, beans, cauliflower, peppers, eggplant, cabbage, and raspberries.